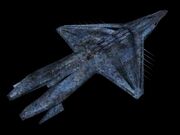 Wolf's Claw



Manufacturer

Kuat Drive Yards

Class

Imperial-class Star Destroyer (stolen)

Length

1,600 meters

Complement

TIE/ln starfighters

Era(s)

Rebellion era
New Republic era

Present for battles/events

Battle of Tantive V, Death of Tython, Battle of Courscant

Affiliation

Galactic Empire
New Republic

Commander(s)

Salvo
Admiral Gaen Drommel
Wolf's Claw
was an
Imperial-class Star Destroyer
under the command of
Admiral
Gaen Drommel
.
When news of the defeat at Endor arrived, Wolf's Claw was one of the ships that fled to Oplovis with Drommel's flagship. It was captured by the New Republic during the Battle of Tantive V in 7 ABY and later incorporated into the New Republic fleet.
10pxe/9jIvQ0EX4VA0
Wolf's Claw's theme song.
Ad blocker interference detected!
Wikia is a free-to-use site that makes money from advertising. We have a modified experience for viewers using ad blockers

Wikia is not accessible if you've made further modifications. Remove the custom ad blocker rule(s) and the page will load as expected.